Guralp Systems
모델명 : 5TDE
제품용도 : 가속도계(Digitial Accelerometer)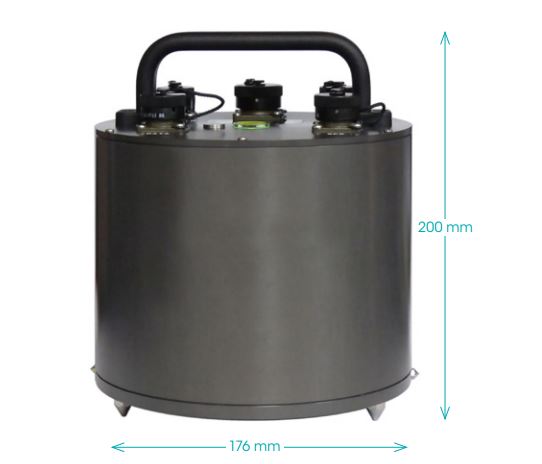 5TDE
•Configuration / Topology: Triaxial orthogonal (ZNE)
•Feedback: Force feedback.
▶SENSOR PERFORMANCE
•Velocity output band: DC – 100 Hz standard (DC - 200Hz options available)
•Output sensitivity / Clip Level: ±?2 g
•Peak / Full scale output: Three channels - ±20 V (40 V peak-to-peak) differential
•Cross axis rejection: 0.001 g/g
•Linearity: 0.1 % full scale
•Lowest spurious resonance: >450 Hz
•Self-noise: < 1 ug rms
•Dynamic range:
•147 dB @ 0.1 Hz
•151 dB @ 1 Hz
•146 dB for 5 Hz
▶CALIBRATION
•Type: Pulse, sine wave and broadband
•Calibration controls: Independent signal & enable lines exposed on sensor connector
▶CONTROL
•Mass control / locking: Remote offset zeroing
▶DISITISER PERFORMANCE
•Digitiser type : Fourth-order sigma-delta
•Digitiser resolution : 24-bit
•Dynamic range : > 140 dB at 20 samples per second, > 136 dB at 40 samples per second?, > 135 dB at 80 samples per second? ???
•Sample rates: 1 to 1000 samples per second (up to four simultaneous streams with different sample rates available)
•Digital filter types: FIR (linear phase) and IIR (for low latency mode)
•Decimation filters: ÷2, ÷4, ÷5, ÷?8, ÷?10
•Anti-aliasing filter at Nyquist: > 160 dB
•Absolute accuracy: < 0.15%
•Nominal sensitivity: 0.9 µV/count
•Linearity ± 0.5°C ?
•Crosstalk(out of band rejection): 140dB
•Linearity: 110dB at 80 samples per second
?
▶USER INTERFACE / SOFTWARE
•Digitiser control and configuration: Platinum software(via web browser)
Güralp Scream! software (free download)
Terminal window over SSH or serial link
•Triggering modes: STA/LTA, level, Per channel voting and network voting
▶REAL TIME DATA COMMUNICATION
•Interface: Streaming via RS232 serial, Ethernet
•Protocols: GCF(Scream!), SEEDlink, CD1.1, GDI-link
?▶ON-BOARD DATA STORAGE
•Internal storage capacity: ?Flash memory storage options available up to 64GB
•Data recording?: GCF??, miniSEED
▶POWER
•power voltage range : 11-30VDC
•power consumption : 3.2W(with GPS or Ethernet)
▶PHYSICAL/ENVIRONMENTAL
•Operating temperature: -20 to 70°C
•Operating humidity: 0 to 100%
•Enclosure ingress protection: IP67
•Weight: 3.4kg?